V2G ADOPTION IS THE KEY TO THE ERA OF CLEAN TRANSPORTATION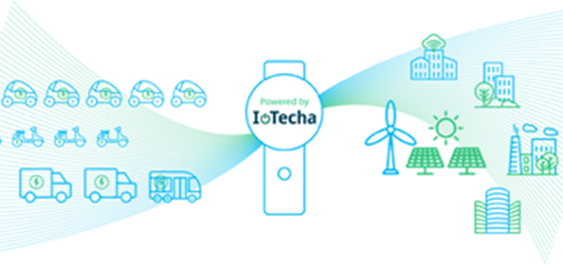 The technologies that are accelerating development of an Electric Vehicle (EV) charging infrastructure are at the forefront of IoT innovation. IoT technologies are proliferating across the EV industry as networking solutions enable data to be gathered and analyzed among vehicles, mobility providers, energy management systems, drivers, and charging site hosts. The emerging applications are accelerating the decarbonization of transportation by providing an infrastructure that is networked, smart, reliable and interoperable.
While IoT has taken root in other sectors, EV IoT solutions are just making first steps following the curve of EV adoption. As we accelerate mass adoption of EVs, we're also developing applications to support smart charging that delivers the right amount of energy at the right time and at the lowest price.
We are also seeing the evolution of bidirectional – broadly known as Vehicle-to-Grid (V2G) applications – that enable drivers to send unused electricity back to the grid. Further, real time data from intelligent grid integration services enable operators to provide drivers dynamic pricing when production exceeds demand, and incentives for sending stored power back to the grid during peak electricity usage.
IoT innovation is enabling the EV owner and electricity provider alike to make real time, data-based decisions that take into account account their charging needs and the demand and price of energy to determine whether any moment in time would provide the most efficient charging or if there was more value to be gained by plugging in to send energy back to the grid.
These applications are ensuring that the charging infrastructure that is being developed will operate in a predictable, consistent, and secure way over time, regardless of the charging location, the make of the vehicle, or the energy service provider. These solutions are ushering in a new era, with unprecedented opportunities for business innovation, and meeting the need for clean transportation, enabling a convenient, positive consumer experience and ultimately ensuring that as we move closer to mass adoption, all the stakeholders are prepared to respond to new issues, such as what happens when a large number of simultaneously charging EVs will overload the supply grid.
At the forefront of innovation as an entirely new industry emerges are IoT-powered applications that layer networking reliability and interoperability into EV charging services to track and control the duration, cost and direction of energy.
______
Oleg Logvinov is President and CEO of IoTecha, a New Jersey-based company that provides a fully verticalized platform for developing electric vehicle charging solutions.