Simplify the implementation and deployment of Plug & Charge and Smart Charging systems using ISO/IEC 15118 with IoTecha chargers and modules!
IoTecha, in partnership with Hubject, a globally recognized leader in simplifying electric vehicle charging with eRoaming and innovative infrastructure technology and processes, is simplifying the implementation and deployment of Plug&Charge and Smart Charging systems using ISO/IEC 15118 for electric vehicles globally.

IoTecha utilizes Hubject's systems to issue and sign digital certificates to be installed in IoTecha Combined Charging System on Module (CCSoM™) products. EV charging stations using IoTecha CCSoM™ offer the highest level of secure communication to enable Plug&Charge and Smart Charging. From a consumer perspective, Plug&Charge will allow for easy payments across multiple charging networks, without the need for using credit cards.
"We are extremely excited to work with IoTecha to bring Plug & Charge using the ISO/IEC 15118 standard to a wider user base," said Barton Sidles, Senior Director Business and Corporate Development. "Our highest priority is supporting EV adoption. Through the advancement of EV charging technology, together we can help move the eMobility sector forward by providing intelligent and secure solutions."
Successful demo of ISO/IEC 15118 Plug-n-Charge in Obernai, France with Hager, Hubject and Porsche: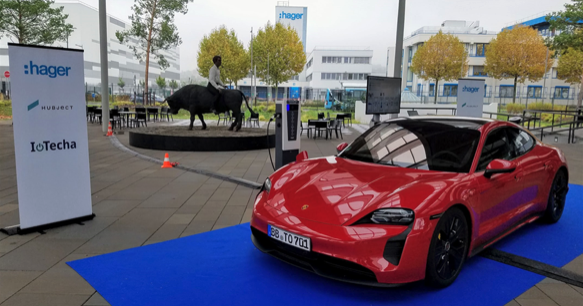 Chargers using IoTecha's CCSoM™ and Intelligent Power Platform (IoT.ON™) are the perfect solution for companies and utilities who want to offer charging options and infrastructure with Smart Charging capabilities. Enhancing the customer experience and introducing advanced energy management techniques will make EV charging more convenient and efficient, promoting EV adoption.

With Smart Charging technology enabled by ISO/IEC 15118, utilities can work with city planners, major fleet operators, property owners and local governments to predict and manage the amount of energy entering electric vehicles when charging. This energy management will help alleviate the strain on the grid caused by the upcoming influx of electric vehicles, reducing the need to create additional expensive infrastructure projects to meet peak demand. Essentially this technology helps to evaluate how the grid stays balanced by incorporating and regulating a number of dynamic variables. These variables can include the needs of EV drivers based on what they are willing to pay, duration at charging station, the amount of charge needed and status of the grid (peak demand, etc.) Additionally, the secure communication components of the ISO/IEC 15118 standard protect against an attack on the grid by providing the highest level of secure communication during a charging session.
Connect with an IoTecha team member
about our products and services.