SPECIAL ISO/IEC 15118 PROTOCOL ANALYZER OFFER FROM IOTECHA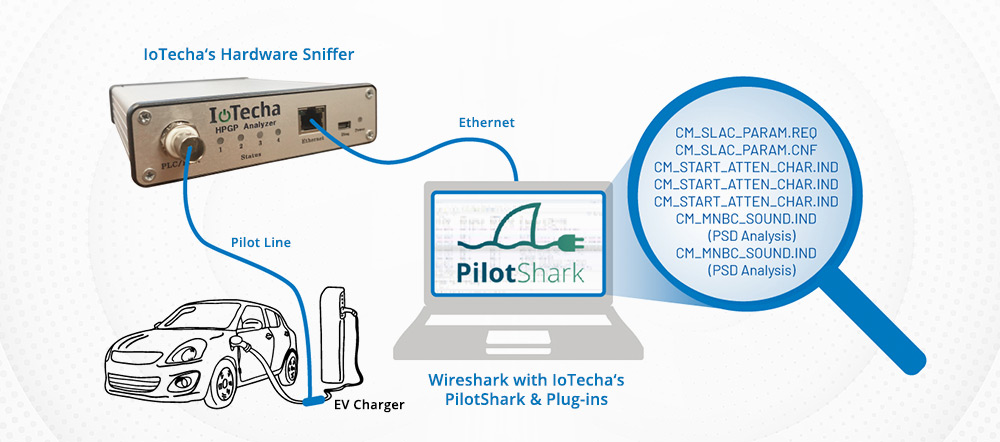 OCTOBER SNIFFER SPECIAL OFFER!
10% off regular price of IoTecha's HPGP Analyzer
HURRY! Quantities are limited. Offer valid while supplies last on orders shipped before October 30, 2020
IoTecha's HPGP analyzer enables in-depth analysis of HPGP and V2G communication with a non-invasive packet capture and protocol analyzer. It is capable of displaying low-level HPGP MPDUs (Frames transmitted on the PLC) as well as decrypted / re-assembled Ethernet traffic. The analyzer has plug-ins for WireShark that allow for the full decode of every field in DIN/ISO messaging. The analyzer also displays CP state (Voltage, Frequency, Duty Cycle) and HPGP PLC signal spectrum for each packet, allowing for in-depth analysis of physical signal integrity issues.
Non-invasive packet capture means that there is no "man in the middle" device. The communication is directly between EV and EVSE. There is an insignificant impact on the signal attenuation between EV and EVSE. The result is simple, with the IoTecha HomePlug GreenPHY + V2G Analyzer one can see a true picture and find issues related to signal attenuation and noise with the resolution down to the MPDU level.
For more details, including the complete datasheet, visit www.iotecha.com/pilot-shark/.
 Contact us today for more details or to requst a quote by clicking this link!
Follow us on: