IoTecha Appoints Chief Financial Officer Bringing Key Expertise Amid Business Acceleration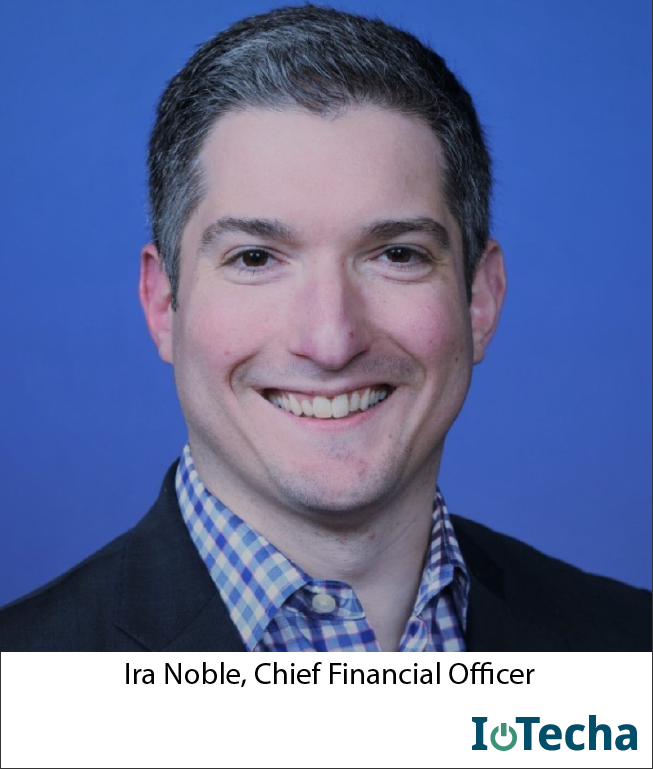 Ira Noble brings financial expertise from PepsiCo, The Bountiful Company, Cognizant, and more
IoTecha Corp., whose platform of products and services is accelerating streamlined development of a smart and connected charging infrastructure, today announced the appointment of Ira Noble to the role of Chief Financial Officer. Noble strengthens the executive leadership of the team and brings strong financial expertise as the company expands to reach new stakeholders and global markets.
"Our business is rapidly accelerating apace with the adoption of electric vehicles and demand for interoperable networked charging, and as we embark on the next phases of IoTecha's growth, we need dynamic experience that matches our strategy," said IoTecha CEO Oleg Logvinov. "Ira brings the proven financial stewardship of public and private companies that is integral as we scale our business to reach new markets and stakeholders."
Noble joins IoTecha from The Bountiful Company (which was acquired in August 2021 by Nestlé Health Science from KKR and the Carlyle Group), where he served as Vice President Financial Planning & Analysis, Strategic Projects, and Supply Chain Finance. Previously, Noble held leadership positions at Cognizant and PepsiCo during which he closely collaborated with their Investor Relations, Controllership, Internal Audit, Corporate Strategy, and Commercial teams.
Ira holds an MBA from Harvard Business School and currently serves as Treasurer and as a member of the Board of Directors for Woodcock Nature Center, a non-profit organization in southwestern Connecticut.
"This is a tremendous opportunity to help steer a company that is at the forefront of transportation electrification, and I look forward to applying my experience across M&A, finance, investor relations, and more to help IoTecha connect with the broader stakeholders in the burgeoning electric vehicle ecosystem," said Noble.
Noble's appointment follows a period of accelerated growth for IoTecha, including a $13.2 million investment round led by a $7 million investment from bp ventures, along with more customers choosing the company's hardware, software, and cloud solutions to connect EV chargers to the power grid via the IoT.
IoTecha's IoT.ON™ platform aims to accelerate the electric vehicle revolution by providing an integrated platform consisting of software, hardware and cloud components for the smart charging infrastructure and integration of the power grid with electric vehicles of all kinds. IoTecha customers are energy and power companies, charge point operators, and manufacturers of both Electric Vehicles and EV charging stations. IoTecha products include V2G and HomePlug Protocol Analyzer, Combined Charging System on Module (and custom modules), EV charging stations and IoT.ON™ Cloud-based services. For more information, please visit http://www.iotecha.com.